November 13th, 2014 by George Fitzgerald
Stay True to Yourself
Perhaps the most important person to be loyal to, is yourself. Are you? Chances are good that you are way down on the list of who and what you care for.
What does being loyal to yourself mean? Commitment to the values you deem important. For example, do you think your family's health is important? If so, your health is important too, because you are an important member of the family. You need to do the things that keep you healthy. You need to eat right. Sure, you are busy at work and taking care of the family, but who is going to do all the work if you get sick? It's easy to skip lunch and eat junk food instead, but would you allow your children to do that? Then why allow yourself. Take the extra 10 minutes to eat a real meal.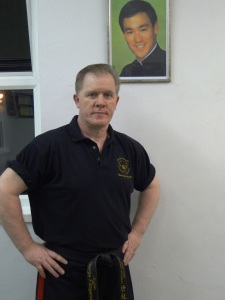 In order to stay healthy, you need to exercise three times a week, or more if possible. Martial arts training is one of the best overall exercises, so attending class regularly, or taking quality private lessons, is good for you and good for your family.
As important as it is to take care of yourself physically, so is taking care of yourself emotionally. You must keep the promises you make to yourself, just as you keep the promises you make to others. Every time you cheat yourself, it is like dripping water on a rock. It does not appear to have any  noticeable effect, but over time it can erode your self-esteem.
Commitment and support are the keys to loyalty. Commit to being as good a friend to yourself as you are to your family and friends. Support the good habits that keep you healthy and strong, so that you can continue to serve those you love.