About Sifu George Fitzgerald
SIFU George
SIFU George Fitzgerald was the President, Founder & Master Instructor of the Tang Lung Combat Academy from 1989 – 2012 and now operates the Millionaire Warriors Club. Among his many credentials, he is a qualified instructor under THREE of Bruce Lee's very best students!
He has been studying and practising formal Martial Arts for the last 44 years, starting with Judo at age eleven. But his real introduction to the 'fighting arts' was from the age of seven in the form of boxing and self-defence 'tips' from his father – Bill Fitzgerald, a man who was definitely no stranger to 'street survival' – in fact, he was known to many simply as 'The Bouncer!'
SIFU George Fitzgerald currently holds various degrees of Black Belt (or its equivalent) in Sixteen Martial Art systems:
Tang Lung Combat System – SIFU George's amalgamated systems.
Young Dragons Kung Fu – SIFU George's system designed specifically for children.
Wing Chun Kung Fu – Grandmaster Victor Kan Wah Chit (Yip Man's assistant in the late 1950's—Yip Man was Bruce Lee's teacher.)
Russian Sambo Wrestling – Grandmaster Martin Clarke (ex-Olympic Judo squad & World Champion.)
Combat Sombo – Grandmaster Martin Clarke
Sai Shu Teki-Na Jiu Jitsu – Grandmaster Martin Clarke
Misu Ryu Jiu Jitsu – Professor William Gill (instructor to several Canadian police departments.)
Arnis de Mano – Guro Krishna Godhania
Warriors Eskrima – Guro Krishna Godhania
Jun Fan Jeet Kune Do/JFJKDGA – Sifu Larry Hartsell (highly regarded as Bruce Lee's toughest student.)
Force Necessary/Unarmed Combatives – W. Hock Hochheim (teacher to various police and military groups Internationally.)
Kempo (Karate Jutsu) – W. Hock Hochheim
Muay Thai – Grandmaster Sken Kaewpadung (widely regarded as one of the world's top instructors of Thai Boxing.)
Cacoy Doce Pares Eskrima – Senior Grand Master Cacoy Canete. (the world's most senior instructor of the Filipino Martial Arts.)
Jun Fan Jeet Kune Do/IMB – Sifu Richard Bustillo (the Iron Dragon – a top student of Bruce Lee)
Joe Lewis Fighting System – Grandmaster Joe Lewis (the World's first Heavyweight Kickboxing Champion, private student of Bruce Lee and Twice elected as the Greatest Karate Fighter of All Time!)
SIFU George is also a certified Instructor of W. Hock Hochheim's Scientific Fighting Congress in the arts of SDMS (Impact Weapons), Knife/Counter Knife and Pacific Archipelago Combatives.
He is a Brown Belt in Judo and also has extensive experience of western boxing, Taekwondo, Kenpo Karate, Kyokushinkai Karate and Tomiki Aikido.
He has won several medals in grappling competitions, including a Bronze in the first British Kurash Championships in 1997, a Masters Gold medal in the 1998 British Sombo Championships and a Masters Silver medal in the British Sombo Championships of 2003.
In addition to operating the Tang Lung Combat Academy from 1989 – 2012, SIFU George was also the official London representative of original Bruce Lee student, the late Larry Hartsell.
He is the Chief Instructor-UK of the Misu Ryu Jiu Jitsu system and he was also one of the very first in the UK to be awarded the ACMA Martial Arts Instructor Certification in the year 2000 from the world-famous Cooper Institute & American Council of Martial Arts.
In March of 2001 the International Budo Federation awarded SIFU George with a Diploma Award of Honour for Outstanding Service to the Martial Arts.
For several years SIFU George served as the General Secretary of the British Combat Sombo Association.
SIFU George was chosen to demonstrate practical Self-Defence in ten episodes of Sky Digital's television programme, "Where's It At!"
In July 2005 SIFU George had the honour of being invited to Los Angeles to be Larry Hartsell's seminar assistant at Black Belt magazine's very first Festival of Martial Arts.
In October 2011 SIFU George Fitzgerald became the UK's very first and only Black Belt under the legendary Joe Lewis (twice voted as the Greatest Karate Fighter in History.) This great honour was presented to SIFU George in front of a 200+ audience, which included many of the world's greatest Martial Art champions and Bruce Lee's wife, Linda Lee Cadwell.
In April 2016 Sifu George Fitzgerald was inducted into the Martial Arts Illustrated Black Belt Hall of Fame, followed in May by being also inducted into the Hall of Fame of the UK Martial Arts Show.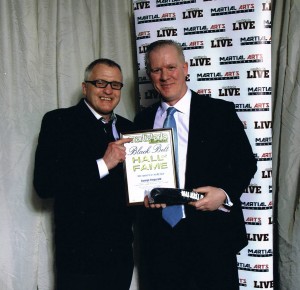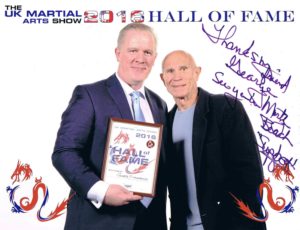 In May 2017 Sifu George Fitzgerald was honoured again to be inducted into 2017 UK Martial Arts Show Hall of Fame.